2021 Fundraising Special!
15 Peaks in 15 Days Fundraising Challenge
12th – 26th June 2021
We are absolutely bowled over by the support and generosity of all the people who have message, donated and even those who joined us on the last day to celebrate. Sarah has more then DOUBLED her fundraising target, and we couldn't be prouder!! See the Just Giving page here.
Solace is celebrating 15 years of providing mental health support to refugees and asylum seekers. Senior Therapist Sarah Blossom is embarking on a personal fundraising challenge to climb 15 peaks in 15 days as part of Refugee Week 2021, and this years' theme 'We cannot walk alone'.
The total distance will be 216km and the total elevation (climb) will be 15,333m. This is equivalent to the elevation of Everest almost twice!
*A mountain is any elevation of land that reaches at least 2000ft (610m) with a slope greater than 2 degrees.
The challenge for Sarah, accompanied by her partner, will be to reach 15 mountain* summits (one per day, for 15 days) returning to the valley each night and camping to start the following day. Sarah will do every summit raising funds for Solace and awareness of this year's Refugee Week campaign We cannot walk alone. We are asking people to give what you can to this fundraising appeal. All funds will go directly to Solace to support the work that we do.
The walks begin on Saturday 12th June and finishes on Saturday 26th June.
Follow Sarah's progress on Twitter #15Peaks15Days, or like our Facebook page for updates https://www.facebook.com/solaceleeds/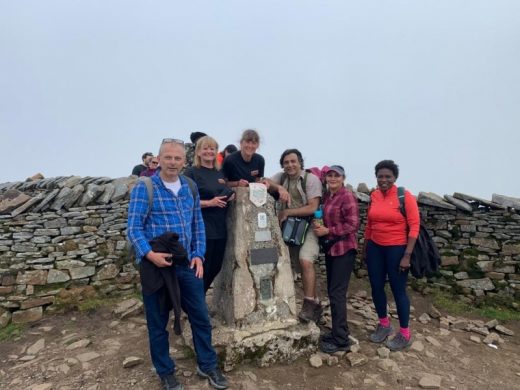 26/06/21 Day 15 Whernside & finished!!!
---
25/06/21 day 14 Summit Dow Crag
---
24/06/21 day 13 Summits Nethermost Pike and Dollywaggon
---
23/06/21 day 12 Summit Skiddaw and Ullock Pike
---
22/06/21 Day 11 Summit Helvellyn
---
21/06/21 Day 10 Summit Blencathra
---
20/06/21 Day 9 Summits Pillar, Red Pike and Yewbarrow
---
19/06/21 Day 8 Summits Scarfell Pike and lingmell
---
18/06/21 Day 7 Illgill Head and Whin Rigg
---
17/06/21 Day 6 Summit – Hart Crag and Fairfield
---
---
16/06/21 Day 5 – summit Caudale Moor
---
---
15/6/21 Day 4 summit – Pike O Blisco
---
---
14/06/21 Day 3 summit – Harrison Stickle & Pike of Stickle peaks
---
---
13/06/21 Day 2 summit – Pen y Ghent
---
---
12/06/21 Day 1 summit – Ingleborough
Saturday 12th June – Sarah sets off
---
Sarah is keeping us up to speed with films from her training.
Training
Tough Day
15th May 2021
You are here:
Giving
/ 2021 Fundraising Special!